the GymKraft Proficiency Awards
Presenting the Gymkraft Proficiency Awards (GPAs) - our all-new progression system tailored to our unique approach to gymnastics coaching and child development. Launching this May!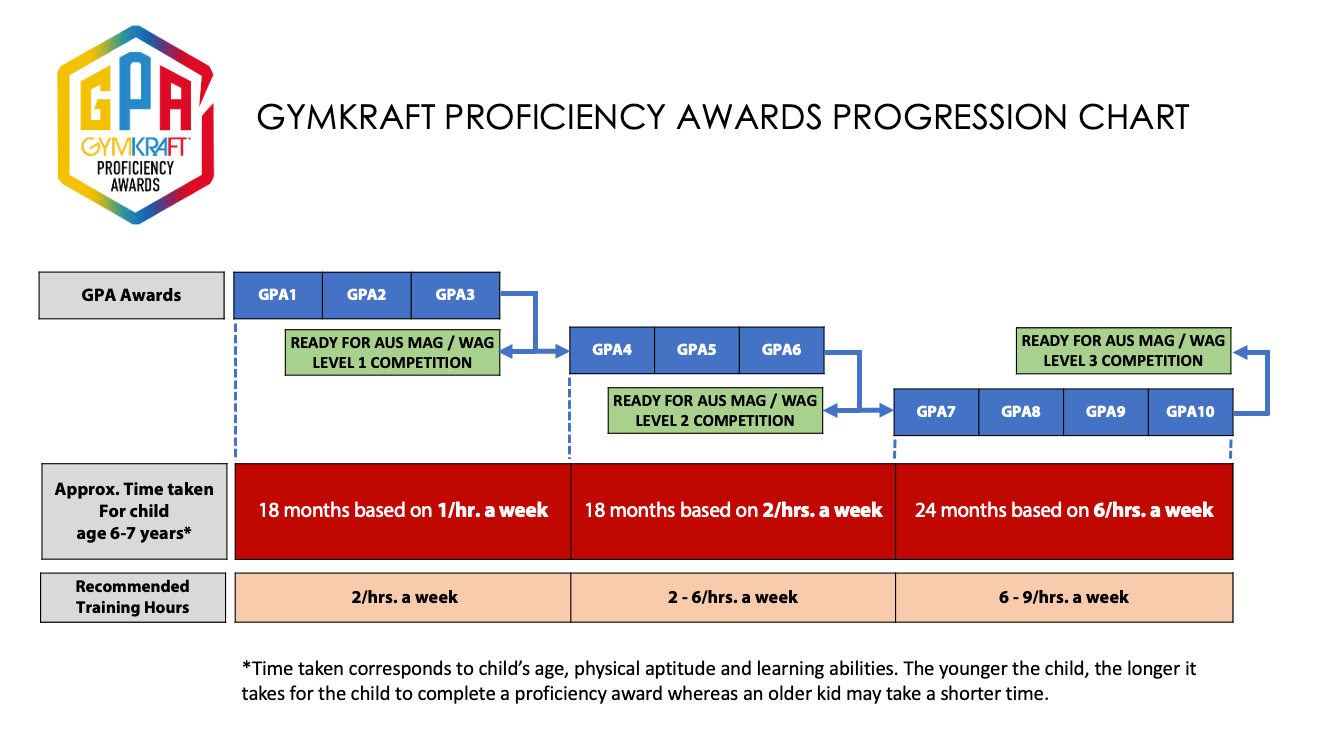 The GPAs comprises 10 levels of movements - 10 skills in each level, for a total of 100 skills - in line with the skills taught in our curriculum. Why 10 levels? We believe that, to promote both mental and physical development, children should target incremental, attainable goals. That's why we've designed the GPAs to provide frequent opportunities to celebrate "small wins", with each level expected to take only about 6 months to complete.
​
Another goal of GymKraft is to create more opportunities for children to have the experience of competitions. The GPAs are aligned with Gymnastics Australia's Women's Artistic Gymnastics (WAG) and Men's Artistic Gymnastics (MAG) competition requirements. But that's not all!
Long-term members would fondly remember our very own GK Day. When we can host events again, the GPAs will provide our coaches and parents with a clear indication of how their kids will be able to participate in this annual GymKraft competition!
Start your child's journey with us! Click on BOOK NOW in the menu above or Get In Touch with us below (after the FAQ) to reserve your first class.
​
FAQ
Background
​
Why did you design a new proficiency system?
​
We designed GymKraft Proficiency Awards to provide one clear, progressive and attainable pathway, allowing our gymnasts, irrespective of their abilities and age, to develop to their fullest potential. This is in line with our vision to promote gymnastics for everyone. #gymnasticsforall #startheregoanywhere
Our GPA empowers our young gymnasts to perceive that they can be competent in undertaking and achieving their goals, through reliable assessment of performance (both recreational and competitive) with tangible and attainable rewards.
How does it differ from the Australian Levels Programme (ALP)?
The Australian Levels Program consists of WAG / MAG routines and elements that are based on a modified FIG Code of Points and are designed to optimally prepare gymnasts to be competitive at the national and international level.
Our GPA complements the ALP fully such that it simplifies a single level of ALP into several attainable skill-based assessments which are inclusive of compulsory WAG and MAG elements. This provides incremental, attainable goals for our gymnasts, promoting consistent incentives for both mental and physical development. It also enables our coaches to clearly see how each gymnast's skills are progressing. GPA sets a strong base for which the more complicated and difficult skills can be learned in the future. The awards that correspond to each ALP level are shown in our progression chart above.
Qualification
​
Who is eligible to take the GPA?
​
Everyone, irrespective of age, is eligible to take the GPA. GPA is designed to cater to the potential of all gymnasts. Our coaches will be responsible to identify the individual gymnast's potential and recommend the appropriate award to best suit the gymnast's individual ability.
How long will it take to attain each award?
The time taken to attain each award varies according to each gymnast's age, physical aptitude, and learning abilities. The younger the gymnast (e.g 3-4years old), the longer it takes for the gymnasts to complete a proficiency award whereas older gymnasts may take a shorter time.
​
Benefits
Which competitions will my child be able to qualify for through the GPA?
Your child will be able to compete in any competition using the Australia Level Program. The Australia Level Program is widely adopted by many clubs around the South-East Asia region. This facilitates our gymnasts to travel locally or overseas to participate in these competitions.